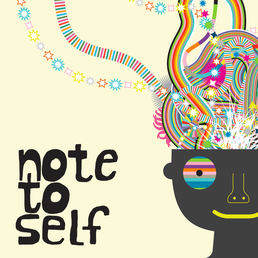 I'm a tech nerd, but I'm the first to admit I don't know everything about all things tech. Attendees in my sessions often ask me questions that I can't answer, but I'm thrilled to share a resource that will help all of us.
Note to Self is a podcast series that bills itself as "The Tech Show about Being Human." The shows are short, entertaining, well researched and very, very helpful. I highly recommend you give these favorites a listen.
Are hackers spying on you?
Yeah, but this is the one thing you can actually do to fight surveillance.
Ever think about walnuts, then the next mobile ad you see is for… walnuts?
This episode explores whether our phones are spying on us. Creepy.
Which country has the world's fastest internet speeds?
You'll be surprised about this answer and all kinds of interesting facts in this look about phone use around the world.
Should you put a sticky note over your webcam?
Uhhh… yeah. Scary stuff.
Are your photos a mess?
You're not alone. These two podcasts give you the tools you need to get your photos organized. More or less.
If you have kids, you should listen to these.