Did you promise to stop smoking? Exercise more? Break your smartphone addiction? Choose one of these tools by your personality type.
The Bling Seeker
Habitica: Gamified Habit-Forming Tool
If you're motivated by gold stars and "winning," Habitica may be for you. The system is set up like a video game where you conquer little monsters to meet daily goals and establish better habits. Along the way, you can earn "sweet gear" like an invaluable 8-bit sword or pixelated horned helmet. While the idea is clever, I think I'd be more motivated by earning digital cupcakes. Habitica lets you join forces with friends to hold each other accountable.
The Extrovert
HabitShare: Social Habit-Forming Tool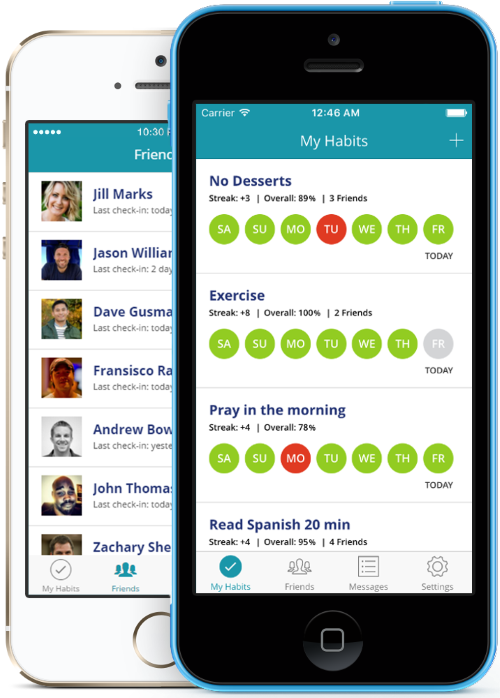 HabitShare takes social accountability to another level. You invite your friends to join you on the app, and you all work together to achieve all the things. You get to choose which goals you want to share with which friends, so you don't have to let your co-worker know your goal of getting a new job. This tool is great for social groups like running clubs when you're all motivating each other to do better.
The Minimalist
Way of Life: Simple Habit Maker with Easy Updates                                       
Don't want to turn your goals into a game or tell someone else you want to lose 15 pounds? People love the simple interface and easy update capabilities of Way of Life. I like the name because it reminds us that a new habit should be part of our daily lives.
The Cheerleader
Fabulous: Science-Based Habit-Forming Tool
Fabulous' roots are connected to the Duke University Behavioral Economics Lab, and they take on helping you with habits to improve your health, such as sleeping better, drinking more water and becoming more mindful. From the home page, the app claims to help you "build healthy rituals into your life, just like an elite athlete."
Fabulous has almost 5 stars with a quarter-million reviewers, and it won a Google award for "Most Charming Engagement." Both Google and Apple have named it an Editor's Choice.
My grumpypants impression: As "fabulous" as the Fabulous app looks, I'm kind of turned off by the cheery "fix everything" approach. I would unfriend a friend who tried "charming engagement" to get me to drink more water, but millions and millions of people have downloaded it, so what do I know?